Do you want to enjoy the off-road experience and intend to ride on the various terrains?
If yes, the best off-road electric skateboard is a great way to get around while having fun. It can get you up any steep hill, moving at top speed across rough surfaces or down rocky ones.
In this article, I'll try to answer all your questions regarding picking one of these top off-road electric skateboards.
You will be amazed that there are many brands in the market, but only a handful of these brands are among the best products by our experts.
So, let's probe into the details of the best-off-road electric skateboard to get the facts.
Best Off Road Electric Skateboard
Image
Product
Details
Price
ECOMOBL ET All Terrain Electric Skateboards
Brand: LEBISAG

Motor power: 2000 watts each

Load Capacity: 330 Pounds

Top speed: 30-35 mph

Check Price
Teamgee H20T 39″ Electric Skateboard
Brand: Teamgee

Material: Maple

Load Capacity: 286 Pounds

Deck Length: 39 Inches

Check Price
KYNG Electric Skateboard 40″ Longboard Mountain Board
Brand: KYNG

Material: Bamboo, Maple

Load Capacity: 325 Pounds

Deck Length: 40 Inches

Check Price
Happybuy Mountainboard
Brand: Happybuy

Material: Aluminum, Maple

Load Capacity: 440 Pounds

Deck Length: 39 Inches

Check Price
MountainBoard All Terrain Skateboard Kiteboard
Brand: LOSENKA

Material: Maple

Load Capacity: 500 Pounds

Deck Length: 38 Inches

Check Price
RALDEY V2 Carbon Fiber Off-Road Skateboard
Brand: RALDEY

Material: Carbon Fiber

Load Capacity: 265 Pounds

Deck Length: 36 Inches

Check Price
WowGo AT2 Electric Skateboard & Longboard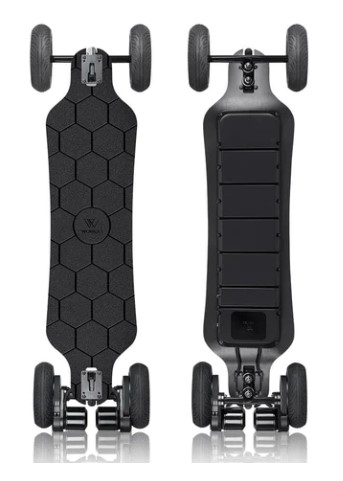 The WowGo AT2 Electric Skateboard is the best version of all. It's not just a great electric skateboard but best electric skateboard you'll ever ride!
The board is designed to be used by anyone, from beginners to pros. You can enjoy riding it from the smart turn to the crazy amount of wheel and gearing setups.
The double kingpin trucks provide a smooth ride on carves and turns. My first experience riding WowGo AT2 Electric Skateboard is like riding over clouds- fantastic!
If you want to get the most out of your WowGo AT2 Electric Skateboard, it's helpful to look at the tires.
The 7″ Knobby tires weren't as good on roads as on trails, and they were great for going off-road but weren't so great on asphalt or concrete. That's why I decided to switch out those tires with something else that would help me smooth out the ride on the pavement. And so, after some trial and error, I ended up with Evolve's 7″ knobby tires.
I put them on my board and took it out into the streets; these things are amazing! They provide excellent traction when riding off-road and give you enough grip when cruising down pavement streets or sidewalks.
Another electric board of the same quality is the Evolve GTR. But the thing that sets WowGo AT2 apart is its intelligent turn-on feature, and the remote control lets you take turns easily.
By looks, it is the true spokesman of the latest technology. Its 38″ Deck is made of maple, bamboo, and fiberglass. The dropdown facilitates you to accelerate and brake as hard as you want. However, it seemed sturdy and pristine.
Reasons to Buy
Bigger motors save the board from overheating
Pneumatic tires are metal made
Highly water resistant
Powerful belt motors
Smooth at turns
Reasons to Avoid
The wheels setup is not good
It needs time to get used to it
---
ECOMOBL ET All Terrain Electric Skateboards – Best Off Road Electric Skateboard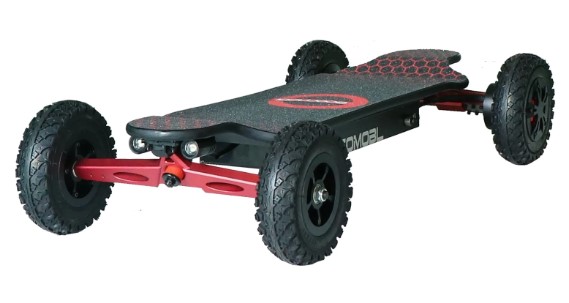 ECOMOBL ET Best All Terrain Electric Skateboard is a high-quality 12S3P lithium-ion battery. The battery is powerful that can travel from 15 to 22 miles on a single charge.
The Ecomobl Board is lightweight, compact, and durable. Our experts tested it in various weather conditions, including snow, rain, and mud. It works well for all types of terrain and will not slip or skid when riding downhill.
Ecomobl ET Electric Skateboard has two powerful 2000 watts 63mm brushless planetary gear motors. With the capacity to reach 30-35mph with great acceleration. It's also made with a heavy-duty aluminum frame and PU wheels, making it highly durable and easy to ride even in rough terrain.
These electric boards have combined the best features of a regular skateboard and an electric scooter to create a lightweight, durable board that is easy to handle and manoeuvre.
The tires have a honeycomb structure which ensures better control due to their low centre of gravity. The 38cm wide truck also provides super stability, making it easier than ever for you to cruise down the streets or trails with your friends.
The Et All Terrain Electric Skateboard is perfect for beginners or experienced riders who want an electric skateboard that's easy to handle yet offers advanced performance capabilities without sacrificing speed or agility.
The FOC 70 Belt is a new version of the old BLDC motor controller, but with a few key differences: it's evolved from the old BLDC motor controller, embraces FOC mode, and provides smooth acceleration and braking control. FOC mode distinguishes it as the fastest off-road electric skateboard.
Reasons to Buy
Batteries are wrapped in a thick aluminum box
The bright headlights make night travel safe
Easily portable due to being lightweight
Tires placement option – no worries
Outstanding customer service
---
KYNG Electric Skateboard 40″ Longboard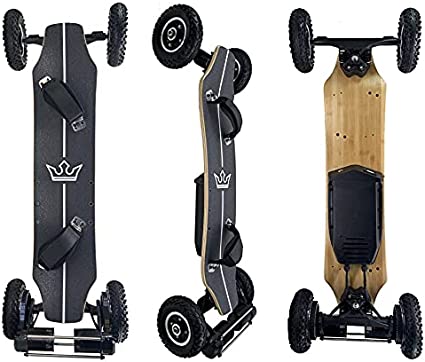 The KYNG Electric Skateboard is the best-off-road electric longboard for all ages, including adults. With a range of 10-15 miles, you will get plenty of time to enjoy this fun ride. It's made with a high-quality aluminium alloy so that it won't rust or dent.
KYNG Electric Skateboard 40″ Longboard has a simple, easy-to-use thumb throttle that provides precise control and braking. It uses 2.4G RF technology and high-frequency wireless remote control.
The board is powered by a rechargeable battery with up to 15 minutes of riding time and an LED light system that illuminates the way to see where you're going in low light conditions.
It's made with high-quality materials that make it durable, lightweight, and reliable for you to use for a long time. With a high-quality deck and superior durability, the KYNG Electric Skateboard is the ideal way to get around town.
The KYNG Deck is the ultimate in functionality and performance. The waterproof IP54 rating ensures that your board will be safe no matter the weather. And with a weight capacity of 200 lbs., you'll feel confident as you cruise around town or even out on the open road.
The KYNG Electric Skateboard is the best electric skateboard you can buy. It has an LED screen and a powerful 11000mAh rechargeable lithium battery, allowing it to charge in just 2 hours. It has a remote control for effortless navigation, with a load capacity of 325 pounds.
If we compare KYNG Electric Skateboard with Ecomobl ET, it has a maximum 15 miles riding range, which is low compared to Ecomobls', which has 22 miles maximum.
However, the KYNG Electric skateboard is fast—25 MPH top speed—and easily glides up hills. You can take it on dirt roads, wet roads, literally anywhere! Even better? It looks great! With its bright green colour and sleek design, everyone who sees you will want one too.
Reasons to Buy
Economical- high performance and low maintenance
Best for all- beginner to advanced level
Charging time is only 2-3 hours.
The Belt system ensures safety
Durable and stable
Reasons to Avoid
Remove the foot straps if feeling uneasy
It can't withstand excessive water
---
Happybuy Mountainboard, 37"L Cross Country Skateboard
Happybuy brand is famous worldwide for its quality manufacturing of electric skateboards. The board is 37″ long and made with eight layers of Canadian maple.
It has high-precision spray-painted oil sandpaper so that even when touching water, it will not drop sand even when touching the water (which means less chance of falling over). The design is sturdy and durable because it has been tested for years by skateboarders worldwide.
This 37″ cross country skateboard is the perfect way to get around in style. The aluminum alloy frame gives you a lightweight ride that's easy to maneuver, while the 8″ knobby tires provide ample traction on the ground.
The best-off road skateboard board is designed to accommodate all your needs. The two hand protectors will keep you safe on the mountain, while the two knee and two elbow pads will keep you as comfortable as possible when you're out there for hours. And don't forget about the bindings: They'll make sure you can take all those jumps without ever feeling like you might fall off the side of the mountain.
My several experiences with this board are so fun, and it's hard to keep it in one place—and that's just how we like it!
Reasons to Buy
Friction keeps you safe from falling
Durable and sturdy construction
Packing keeps the unit safe
Best to use for all
Lightweight
Reasons to Avoid
The safety gear is just kid-sized stuff
It should have more safety options
---
Mountain Board All Terrain Skateboard – Best Electric Mountain Board
The Mountain Board All Terrain Skateboard is the perfect way to explore your surroundings. Whether heading down the street or climbing a mountain, the Mountain Board All Terrain Skateboard will get you where you need to go.
The composite natural core 9-ply Maple deck with 200*50 explosion-proof pneumatic tire wheel (240Kpa) offers unbeatable strength and traction on all terrain. The inflatable tires provide excellent stability and unparalleled traction. The Mountain Board All Terrain Skateboard is made for adventure!
Mountain Board All Terrain Skateboard is a custom skateboard designed to withstand the most challenging terrain. The deck is made of 9 layers of A-grade Canadian maple, which makes it durable and resistant to cracks.
It also features bearings that are customized for off-road use, as well as a 10inch off-road truck for stability and control.
Mountain Board All Terrain has an increased load capacity of 500 pounds compared to Happybuy Mountain Board. With almost the same price Mountain Board is more stable.
Mountain Board All Terrain Skateboard is best used for all – teen ages and experts alike. It's ideal for road cruising because of its smooth ride, but it can also handle rough terrain without being damaged or losing its shape, thanks to its unique design.
Reasons to Buy
Cheap off-road electric skateboard
Build quality is excellent
Solid riding experience
Easy to assemble
Lightweight
Reasons to Avoid
Need to buy a new bag to take with you
It should have more safety options
---
GTR- Series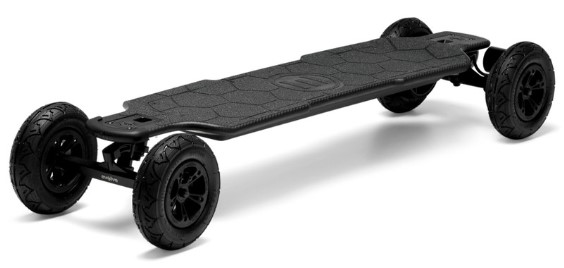 The GTR Series is the best budget all-terrain electric skateboard. It is an all-around board and Evolve's most popular series. The GTR Series has two deck options: bamboo and carbon.
The GTR Series' bamboo deck is made of durable, high-quality wood that provides a smooth ride and is built to last. The bamboo deck also comes with an EVA shock pad that increases the stability of your board, making it easier for you to control.
The carbon fibre GTR Series board has the same features as the bamboo version but with added features such as a full carbon fibre deck that allows you to customize your ride quickly. This makes it easy for anyone, from beginners to advanced riders, to get the performance they need from their board without worrying about durability issues or breaking down.
The new GTR-Series is the most versatile street and all-terrain setup on the market. Swapping between the street and all-terrain setups takes less than 10 minutes, so you can ride in style wherever you go.
With newly forged aluminium 'Super Carve' trucks, you'll be riding with the best equipment available—and it's going to last for years and years.
No compromise over strength, durability, or ride quality means this truck is built to last through any terrain or weather condition.
The GTR-Series is powered by the best 18650 lithium-ion battery cells available. This makes it a smooth and reliable ride, with a real-world range of up to 50km per charge in street mode.
GTR-Series also features a Bluetooth communication system that allows you to pair it with your mobile devices and enjoy hands-free calls, music streaming, and GPS navigation.
Reasons to Buy
Smooth acceleration and braking setup
Sturdy construction
Made in the US
Smooth journey
---
MaxFind FF Plus – Best Electric Skateboard Off Road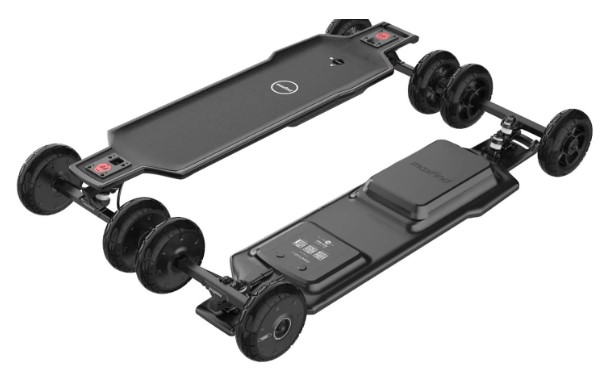 The Maxfind FF PLUS electric skateboard is a high-quality product that provides you with the best experience possible.
As the best-off-road electric skateboard, The Maxfind FF PLUS electric skateboard offers several features that make it stand out from other products in its class. The first thing to note is that this board has 1200W*2 high-torque hub motors, which can deal with 35% of slopes. It also has 165mm vacuum rubber wheels with 4.7 inches of ground clearance, allowing you to perfectly conquer all roads, such as slopes, gravel, dust, etc.
This 165mm Vacuum Rubber-Tire electric skateboard comes with a handle that allows you to drag it along the ground, eliminating the need for a kickstand or other support mechanism. The dual kingpin truck is made of European standard AISIMg5 special high-speed rail material, so you can ride in style without worrying about your wheels falling apart or losing traction.
The deck of the MaxFind FF Plus electric skateboard is made of PPS and fibreglass composite material, a composite material that is stronger than steel and more flexible. This makes the deck more durable, resilient, and softer to ride on.
Also, the deck has been designed with a mesh pattern, which allows you to feel the ground beneath you and provides extra traction for your feet.
The new Hobbywing-9005 FOC electric skateboard controller is the latest point that sets it apart from the GTR Bamboo Terrain skateboard.
The MaxFind FF Plus electric skateboard is the professional's choice. With a professional-grade power adjustment, Hobbywing motor, and 4-wheel drive system, this electric skateboard improves efficiency significantly over its competition.
Reasons to Buy
Dustproof and water resistant
All-terrain performance
Good customer support
Smooth controls
Puncture free
Reasons to Avoid
Expensive unit
Heavy board
---
RADLEY V2 Carbon Fiber Off-Road Electric Skateboard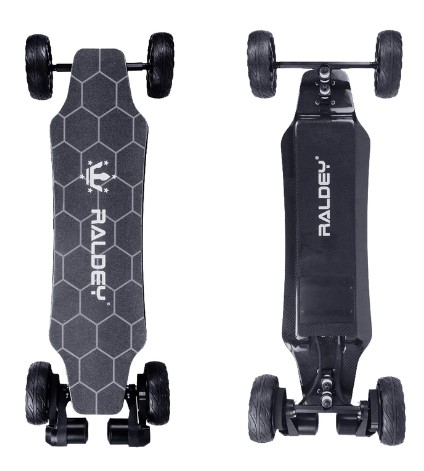 The All-Terrain Raldey V2 Carbon Fiber Off-Road Electric Skateboard is a smooth, sturdy ride. It has an impressive top speed of 28.5 mph and can climb at a 30-degree angle so that you can go almost anywhere. The 195mm rubber wheels are solid and stable, so you can cruise along in style, no matter where you're going.
The Radley V2 Carbon Fiber Off-Road Electric Skateboard is built for all-terrain use: it's made for both city streets and trails, so you don't have to worry about getting stuck in sand or mud. Its lightweight and low centre of gravity make it easy to manoeuvre around obstacles without tipping over or getting stuck.
With a top speed of 20 km/h, the RADDEY V2 Carbon Fiber Off-Road Electric Skateboard is the fastest electric skateboard on the market. It's also equipped with an onboard 14 AH battery that requires only 4 hours of charging and a continuous range of 30 km. However, the battery charging time is much longer than the KYNG Electric skateboard.
The all-terrain electric skateboard's deck comprises Japanese T700 carbon fibre for a lightweight and sleek setup. The lightweight design is ideal for those looking to improve their speed and acceleration, while the durable construction ensures you can ride this board as long as you want without worrying about breaking it.
With four speeds and four brakes designed for pro and expert users, it is the best electric skateboard for rough roads Allowing them to adjust speed if needed quickly. The power button on top of the deck allows you to change between modes with ease, while a built-in display lets you know what mode you're in before changing it!
Reasons to Buy
Rubber wheels keep you from falling
Fast and smooth riding experience
Adjustable speed and brakes
Lightweight unit
Sleek design
Reasons to Avoid
Don't have foot straps
Not for jumping
---
Teamgee H20T 39″ Electric Skateboard
With Teamgee H20T Electric Skateboard, you get the best of both worlds: the stability of a traditional skateboard and the quickness of an electric skateboard. It is best in price range compared to RADLEY V2 Carbon Fiber Off-Road Skateboard with the same features- economic.
The board design of the H20T is made with stability and comfort in mind. They use a unique W-shaped foot socket to create a firm surface for stable foot placement. The wheels are shockproof so they won't get stuck in cracks or holes. And they're best for uneven surfaces—so you can cruise around like usual on your commute, but then hit some hills and keep going!
Whether you're just starting or are an experienced pro, this electric skateboard will keep up with your every step. The one-speed motor offers a smooth ride and allows easy control in all conditions. You can choose the perfect setting for any situation with four-speed modes and four brake settings.
The high-speed setting will get you there quickly if you want to go fast. If you want to cruise around at a slower pace, the low-speed setting will help you get where you need to go without breaking your neck! Each set also has its dedicated power button, so there's no confusion when trying different settings.
The Teamgee H20T is the best off-road electric board with a high-quality Canadian maple integrated board, eight pieces of Canadian maple + 1 piece of fibreglass. The deck is 15mm thin due to the quality plate.
Prepare to experience the best of both worlds: the speed and power of a motorized skateboard, with the comfort and convenience of riding on wheels. This electric skateboard is fast, agile, lightweight, and easy to manoeuvre.
Thanks to an aluminium alloy casing on the battery, this board can hold up to 3-hour worth of charge, so you can get all your errands done in one day or take it along on your next camping trip. It also has a built-in charger that lets you recharge in 4 hours.
The 1200W hub motor provides fast acceleration and a top speed of 26 Mph. The battery provides enough power to give a decent range—you won't have to worry about being stuck somewhere far from home!
Reasons to Buy
Convenient to ride due to 4-speed modes
Minimum charging time
Excellent friction
Sturdy build
Reasons to Avoid
Requires time to switch between rubber and PU wheels
---
Buying Guide for Best Off Road Electric Skate Board
Here are some points that you must keep in your mind before buying the best off-road electric skateboard.
Sturdy Material
If you're looking to buy the best off-road skateboard, you should ensure that it's made from durable materials.
While some boards are made with cheap plastic, that doesn't mean you get a good board. Make sure your board is made from bamboo, aluminium, or maple wood—all of which are durable and will hold up well over time. Want to check how to DIY an all-terrain longboard?
Speed and Range
Speed and range depend upon the battery; the bigger the battery, the better the range. The speed of an electric skateboard is measured in kilometres per hour (kph).
The more powerful the motor, the faster you can go. A typical electric skateboard has a maximum speed of up to 20 mph (32 kph). However, if you want to go faster, you need to buy a larger battery pack. It takes a new battery pack about 4 hours to fully charge up and reach its maximum speed.
Price
Price is the most crucial factor to all. The higher the price is, the sturdy the board will be. The purchase depends upon your budget range and use. If you have a sufficient budget, are an expert user, and want to use it a lot, you must buy an expensive one.
The boards with a price range between $600 – $2000 are the best.
More Related Posts:
FAQ's
What is an off-road electric skateboard?

Ans: The board needs battery power to work and a charger to charge. They are best for all tracks like grass, forests, asphalt, etc.  
Do electric skateboards require maintenance?

It mostly depends upon you, as how much care do you do it? If kept with great care, it won't need repairs and maintenance.
Can you uphill on an electric skateboard?

The short answer to this question is" yes". You can go uphill on an electric skateboard.
How long does an electric skateboard last?

If you keep it with great care, the battery life is 2-5 years.
Final Words
With the best off-road electric skateboard, you can explore endless adventures. You can have your way amidst the forest, beaches, and among all rough and tough terrains.
Electric skateboards have great concerns with speed, range, and functionality. We have presented all the best-off-road skateboards with all their features; you can select any of them according to your budget and use of the item.
Above all, carefully charge the item and set out for your next ride.